Thursday July 30th was our final (18th) day of the shoot. Our first full day without Liam since the start, and a strange one, as always. By now you've most likely seen our final Behind the Scenes video – a little less manic than the first four, but still accurately capturing the fatigue and final farewells. I've said for a while now that I feel that 'MUTE' is the start of a new phase for Quandary Productions, most notably with cast changes, improved technical quality, and a bigger crew, so it seemed fitting that the final day of the shoot was with the Quandary Old-Timers (regulars who had been there since we started with nothing at all back in 2009). We started with Tom and Shaun, getting through one of the more comic scenes, then welcomed Rob Smith in the afternoon to get one of the more serious work scenes done. And we finished ahead of schedule. It was a nice reminder of how we began, how much we could enjoy just focusing on the beats of a scene and adding even more levels of humour.
In the late afternoon, the final few hours of the shoot, at the Platform Bar, Engine Shed (which I'd booked out, having been unable to get the original location we had desired), we began filming with Charles Cromwell again. We had four hours to get through one of the bigger (most integral character-wise) scenes of the film. We didn't have enough extras (though we are lucky enough to have a select few students and friends who have consistently been there for us, and we are forever grateful), but the scene actually benefits from it being sparse, staged and cold. Luckily Chas and the rest of the cast were all people I knew I could rely on, and the majority of the content we got was on the first take. We finished an hour early (a little annoying as we paid for four hours, but at least we could begin to celebrate earlier). All hugs, and packing up – then came the long, emotionally-cold walk home. Where the world continues, without any idea at all of what has just happened. I've compared making a film to running a marathon where no-one is watching before, and that was the moment we crossed the finish line. Nothing had changed.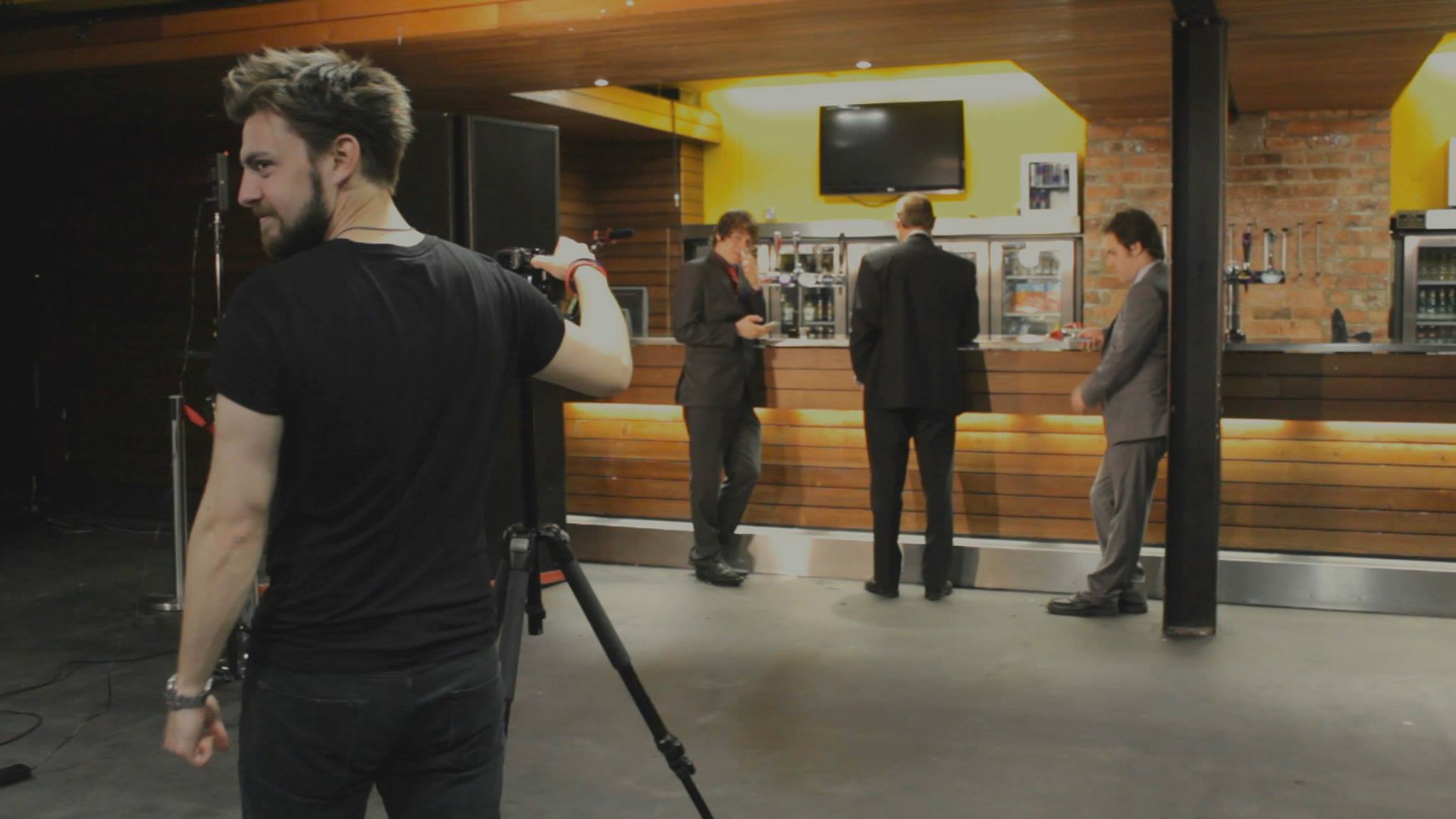 So now comes the time we look back on the shoot and question – What was that all about? First of all what worked during the shoot? Well we had a reliable cast who delivered perfectly throughout (performances are always what we're most proud of), even under the harshest time constraints, we grew our troupe of actors substantially, with more supporting cast than ever (I think we clocked in around 50 actors), and a bigger crew than we've ever had, thanks to a handful of committed students and friends, but most importantly the quality of images is arguably the biggest step forward we've had – shooting in 4k looks great sure, but the DJI Ronin has really made a mark, meaning I can finally give our films, with ease, a fluid, professional look. Whip-pans, crash zooms, and walk-and-talk single take two shots are now something we're taking for granted.
But inevitably we have to ask what hasn't worked during the shoot, and organisation was arguably our biggest downfall. Changing the film we were going to make a few weeks before the shoot, didn't help but it was still doable, and I knew that. The biggest stresses were to do with scheduling, and ensuring we would even be able to make the film at all – having this in mind all the time, took a lot out of me and made it harder for me to focus on the thing I value and am excited by most – directing. In future we'll be looking at organising ourselves better and having more people on hand throughout each stage of production.
Almost a week has passed since we wrapped, and it's been over six weeks since we first started, and a huge comedown was inevitable. First of all you look at it all and wonder, how did that happen so quickly? Then you wonder, did we get everything we needed? You're never going to be completely satisfied, but you have to reconcile that you now have to work with what you got, and simply try harder next time. The hardest thing to deal with is the void it leaves. It's like forming a band, touring, doing your best work and having a great time and then all of a sudden you are forced to break up the band, and your life stops dead. You feel empty. I burnt out a lot during the shoot, through exhaustion, burning it at both ends, and the usual stresses that come with the shoot. But I completely burnt out the week after. We celebrated several times, but dealing with doing very little during the day was the biggest shift. I've been occupied, but it's taken a good week to get back to my usual energetic, motivated, creative self. Did I enjoy it? Sure. Have I enjoyed previous shoots better? Most definitely. But, most importantly, will this be our best work yet? No doubt. All the hard work shows. We're aiming to have a final cut April, with May 1st in mind as a release date.
So aside from burning out, partying and trying to pick up the pieces, what else has been happening? Well, never one to rest on my laurels I've moved straight on to writing the outline of our seventh feature. It's not fully formed yet but it's very close. What I will reveal is that we're aiming for a 'Raging Bull' meets 'Withnail & I' meets 'Before Sunrise' tone, with a fractured timeline, and impressionist style (more details soon). Motivation levels are high again – I'm reading more, watching new films again, feeling inspired, working on new projects, and we're planning some HUGE changes for Quandary. Watch this space…