This Friday say the conclusion of pre-production on Quandary Productions' next feature film 'MUTE' (formerly 'SPECTRUM' – see last blog entry for more). We have been busy applying the finishing touches, so Michael, James and crew can get on with the production stage of the film. The first shoot day is fast approaching – June 19th. The team will be shooting the ending set-piece in a TV studio first, then taking a short break to shoot some more in-film VTs. The remainder of the shoot will run Monday to Thursday from June 29th through to July 30th.
The primary focus for this week was propaganda for the SPECTRUM Corporation. Tasked with designing posters, to manipulate the people of the in-film world to stay silent, was Callum Emms of the design team. Working alongside Callum were, Morgan Mellor and myself, coming up with ideas for in-film SPECTRUM commercials, again promoting silence, suggesting it's in the best interest of the public.
Sticking with the propaganda theme, Kirsty Cheetham and Oscar Peek were busy making in-design props. Kirsty worked on creating professional-looking SPECTRUM brochures for use in the film, and Oscar made some beautiful business cards for the Corporation.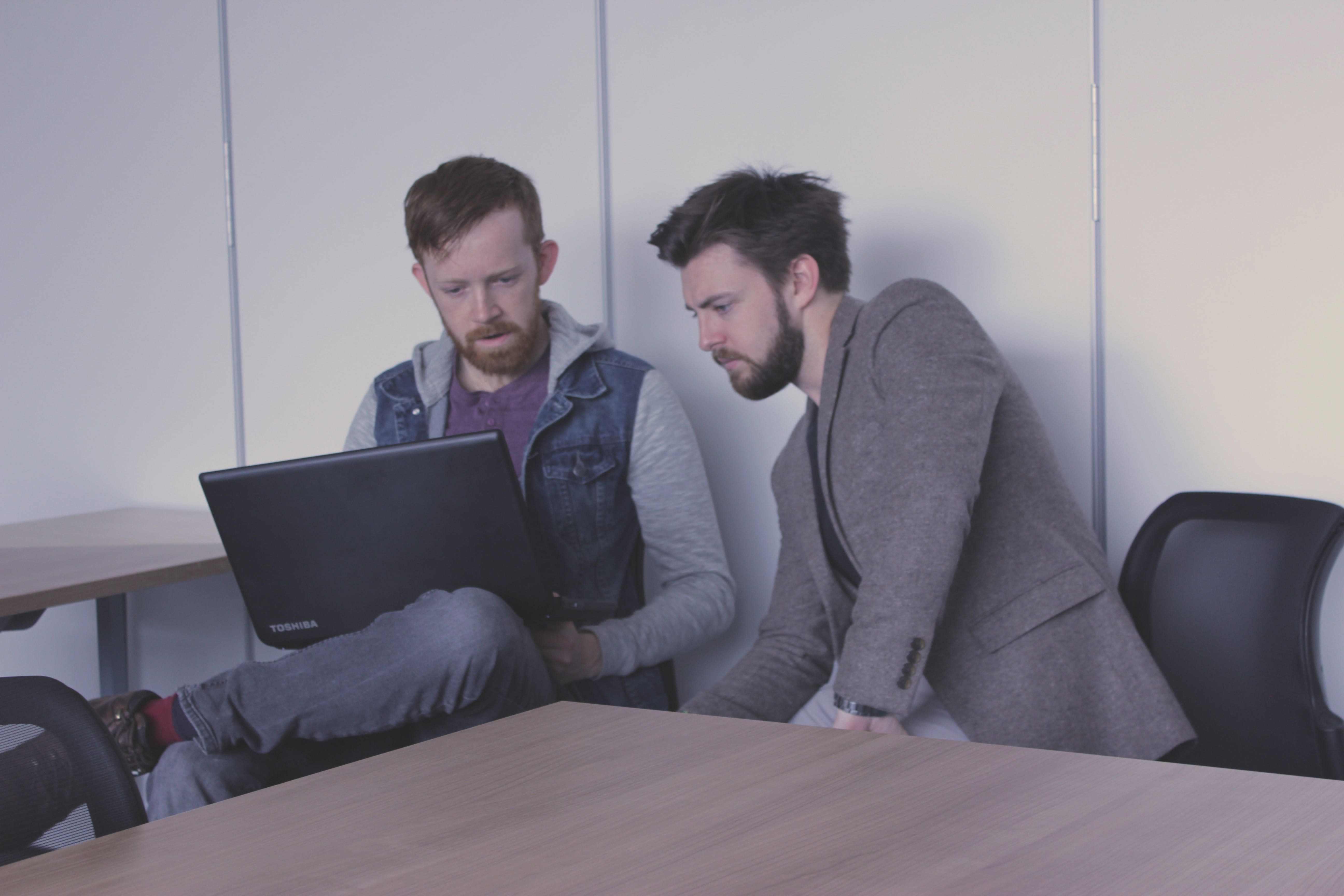 Head of props, Robyn Fuller, finessed the final stages of a variety of props she has created over the course of pre-production. They are looking colourful and fabulous. The props are going to complement the film greatly. In another corner of the room were Director Michael Henry, and Producer James Jackson, completing the last bits of paperwork for the shoot. The pair have been organising the schedule for filming, and ensuring everything is in place. It all has to be perfect. The two are very co-ordinated, and are adamant there will be no mistakes.
Behind the Scenes crew consisted of myself, Paulina Misarko, Josh Macey and Ben Hill. Again, as in previous sessions, BTS had the duties of documenting the session, taking photos and recording video footage for Quandary Productions. We also had the opportunity to interview Michael one final time, concerning the success of the pre-production sessions and how optimistic he feels about the up-coming shoot of 'MUTE'. You will be able to watch the behind the scenes video Monday at the usual place.
I would like to take this opportunity to thank Michael Henry for giving myself and the rest of the other film students work experience, on the pre-production of 'MUTE'. I have learnt a range of new things, including the importance of teamwork, time management, and organisation in general. I feel as though this has been a good use of my time, and has enlightened me on the (rigorous) planning process of films. This work experience has inspired me to get involved with more projects, as well pursuing my own.
Now it is time for the cast and crew to do their jobs and make an awesome film!
by Declan Godfrey
For more behind the scenes photos and videos, check out our Facebook Page and follow us on Twitter