Friday the eighth of May; a smaller but more intimate room. Michael Henry's team were fewer in numbers this week, but no less focussed.
Given a list of several locations per team, location scouts were sent out looking for suitable areas to film exterior shots. The scouts were split into two pairs – Lauren Key and Henderson McDonald, and Chloe Bond and Oscar Peek. Cameras and sound recording equipment accompanied both pairs. This allowed them to take note and create recordings of traffic, lighting, obstructions and any noise pollution, which Michael and James could review at a later date. Considering it was a rainy afternoon, the team had fun and captured some great photographs of locations. Several locations have now been set, ready for the shoot.
Do you remember the personality helmet design from last week? Well, the props team have started to put that design into practice. Robyn has acquired a couple of helmets along with a bunch of wires to start work on the prop. This prop looks funky so far and we are looking forward to the other obscure props that are soon to be produced.
We have now reached the halfway point in the crowdfunding campaign, and the team are feeling optimistic about its progress. This week, the behind the scenes team interviewed Michael Henry to establish, among other things, why crowdfunding for the film is integral to getting 'SPECTRUM' made. As well as covering crowdfunding, the team also asked questions concerning the themes of 'SPECTRUM' and what the film is

really

about. Look out for the Behind the Scenes video in a couple of days to discover what Michael had to say on these matters.
The PR team, led by Lucy Tyler have been working hard to ensure that as many people as possible know about 'SPECTRUM' and the campaign. The PR team are hoping to do this by keeping in touch with the local media platforms, such as radio, magazines and newspapers. As well as this, many people have been involved with the distribution of leaflets on the high streets in areas in and around Lincolnshire.
Continuing with design work, this week Kirsty Cheetham has been working on several in-film designs. I can't reveal too much obviously at this point, but the Design Team have been creating consistent, professional-looking designs, moulding a brand identity for the 'SPECTRUM' corporation. Exciting stuff.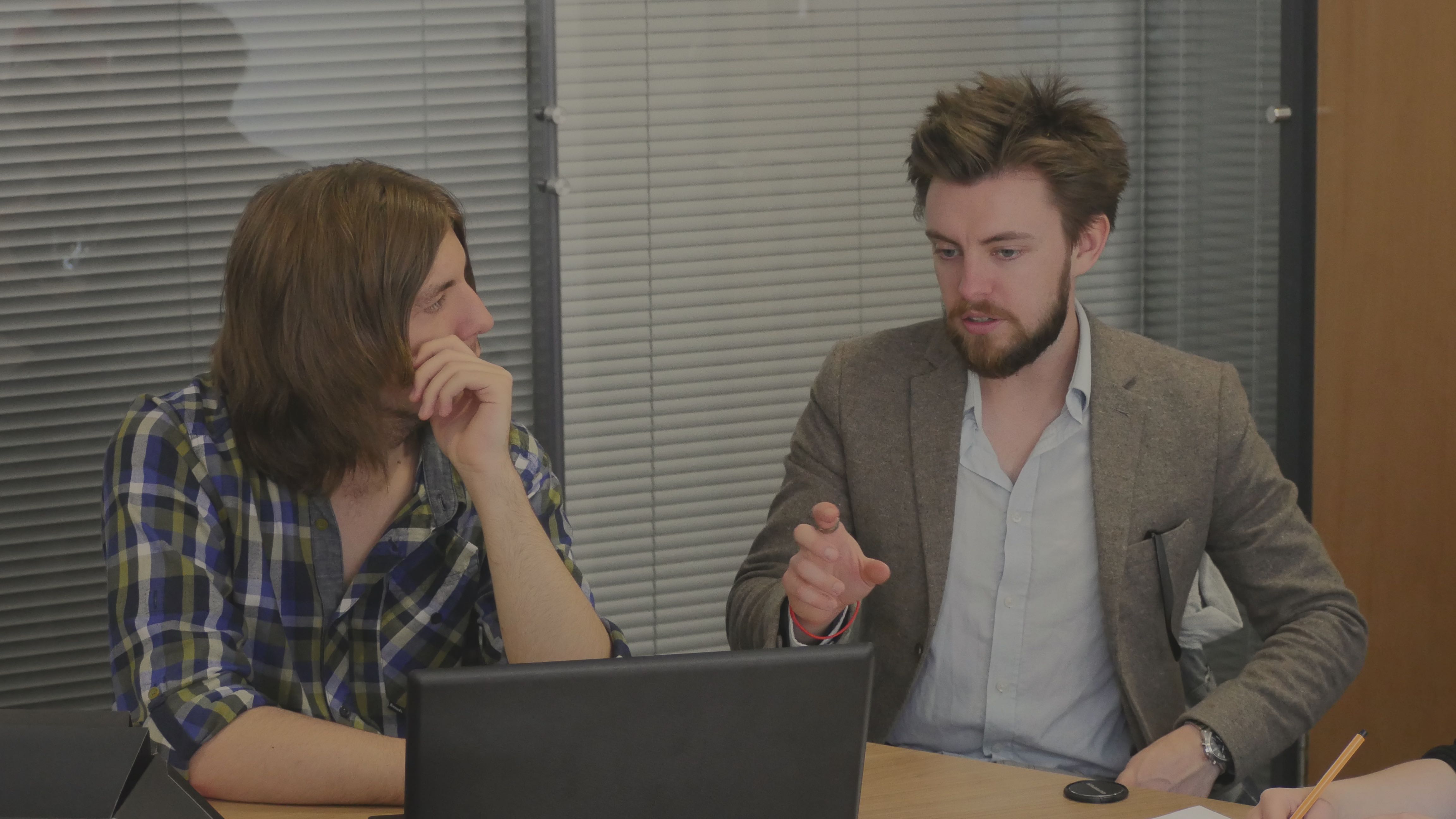 In charge of script development today was the one and only Josh Macey (pictured above). This week Josh had the pleasure of reading the script and creating an outline wall to ensure there were no flaws with the film's structure that had been missed in the writing process. Above all, he enjoyed reading it, but no we cannot disclose anything about the script to you (we all signed contracts!). You will just have to wait until the release of the film.
That is my report on week three of pre-production. Remember to come back next week to keep up with our progress. Also, subscribe to the Quandary Productions YouTube channel to get exclusive behind the scenes access of the making of 'SPECTRUM'!
by Declan Godfrey
Please click here for more on the crowdfunding campaign for 'SPECTRUM'.
^ Behind the Scenes of Pre-Production – Week Two ^