May 15th

, and the talented pre-production crew assembled again for 'SPECTRUM'. Unfortunately, due to being in demand to work on another film project for a couple of days, Producer James Jackson was unable to accompany his comrades this week. So Michael Henry took charge to keep the film students in line and keep them heading in the right direction (like a good director). As a special treat Michael invited along an actor with a lead role in 'SPECTRUM' – a man whom goes by the name of Tom Bridger. Fear not, Bridger proved to be great company for the team, offering his expertise to the film students and being a great interviewee (Behind the Scenes is something you DO NOT want to miss this week!). James Burtenshaw, Paulina Misarko and I were lucky enough to have the Behind the Scene roles.
Elsewhere, the PR team, this week consisting of Liam Bramall, Shona Finnie and Tom Hinckley, were pushing hard to raise awareness of 'SPECTRUM'. The group took to calling radio stations and newspapers, to get 'SPECTRUM' featured, expand its audience, and gain more crowdfunding contributions. This is high on the agenda for the pre-production of 'SPECTRUM', as the amount of money raised from crowdfunding will affect the quality of the feature film, and determine what the crew can do in terms of output and style. The PR team also applied to Indiewire's 'Project of the Week' which (if chosen), will expose 'SPECTRUM' to a huge international audience, and in turn gain the feature film more contributors (if accepted we'll need the support of as many people as possible to vote for the project next week!). A big deal, as you can see. Tom Hinckley is again using his Siren FM show to feature the progress of 'SPECTRUM', as well as interviewing cast and crew members. Listeners are able to get an insight into what the world of 'SPECTRUM' will be like, and how a production company like Quandary Production works.
Location Scouting this week were Lauren Key and Morgan Mellor. These two had the (interesting) job of going to a cemetery and filling out recce forms, checking for noise pollution, and taking photographs of the location. Graveyards, as it turns out, happen to be incredibly quiet. However the pair came back to report some spookiness, reportedly seeing a grave that had James Jackson's name etched on it. This occurs on a day that James is absent. Coincidence? I think not.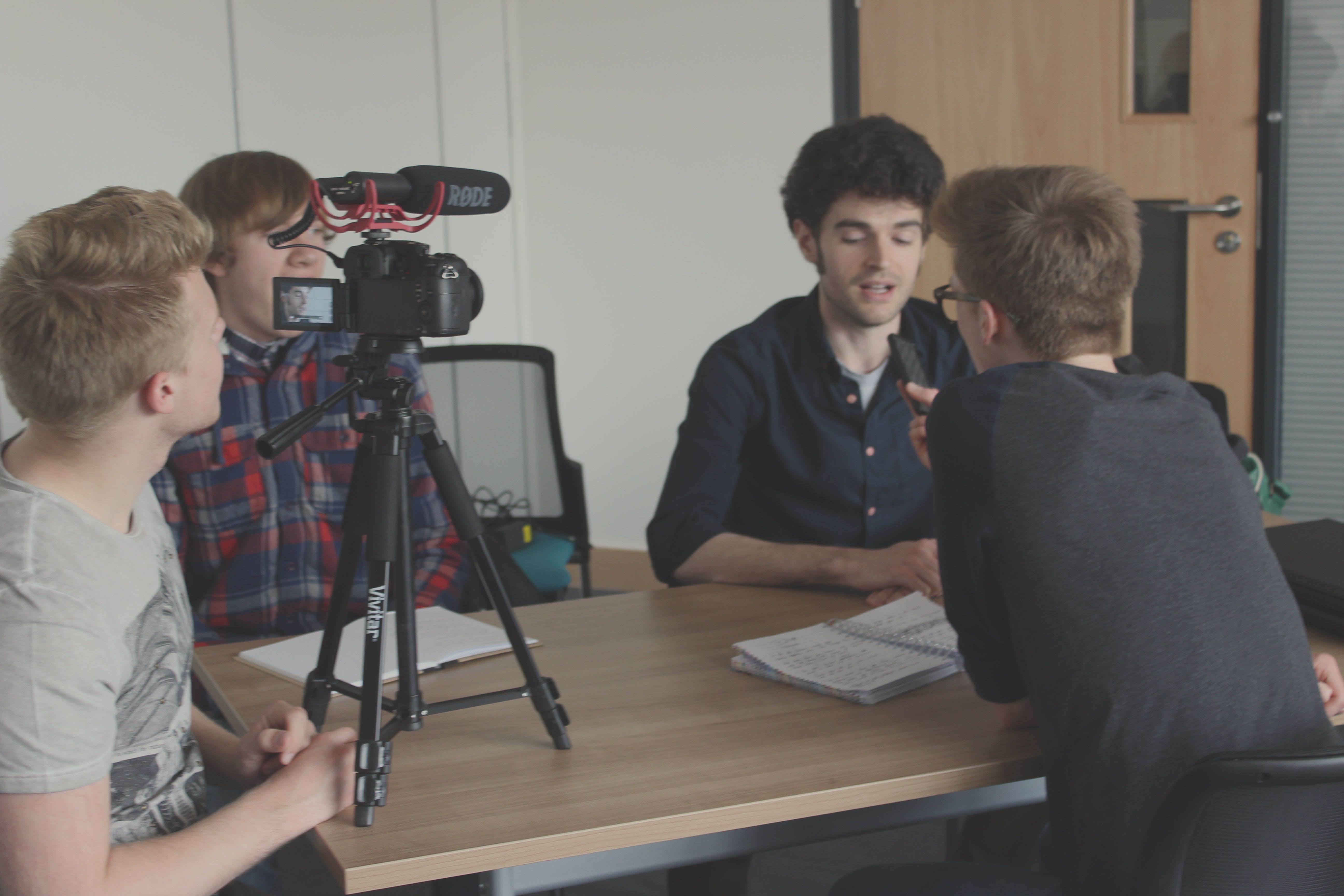 Accompanying Robyn Fuller with Props Development this week were Oscar Peek and Henderson McDonald. The 'personality helmets' have now been spray-painted a shiny metallic colour, which in my opinion resembles a head of a cyberman. Along with this, the group have been working on pages and pages worth of props, including walkie-talkies, costumes for the characters, and have been designing stickers for the emotion vials. When speaking to Oscar about his sketches (that looked to me like pizzas), he informed me that he was actually designing unique walkie-talkies. This sparked conversation amongst the group about the concept of buying a personality implant that would give an individual the ability to make excellent pizzas. I quizzed Michael on this matter and he confirmed that, yes, it would be a possibility. Which is great news because I fancy some pizza right now and I want to make it great.
Hidden in the corner and armed with their laptops were the amazing design team, consisting of Brandon Wilson and Callum Emms (responsible for the poster and flyer you've no doubt seen every day for the past three weeks or so). This week they have been working on in-film propaganda posters and newspapers that will be printed by the props team. From what I have seen, the two have put in exceptional levels of detail and are creating designs to their usual high standard. You will not be disappointed when you witness the work yourselves.
There you have it – week four of pre-production. We will be doing an online Q&A next week (so keep your eyes peeled for that). Remember to keep yourselves updated via social media (@mhfilm), Snapchat (qpfilm) and YouTube. Especially YouTube, so you don't miss the behind the scenes from this week!
by Declan Godfrey
Please click here for more on the crowdfunding campaign for 'SPECTRUM'.
^ Mid-campaign interview with director Michael Henry ^